Shuttle Bus
(1) Shuttle Bus Service between MegaBox and Kowloon Bay MTR Station

Free shuttle bus services are available between MegaBox and Kowloon Bay MTR Station (Exit A, near taxi stand). Service hours are from 9:00 a.m. to 11:59 p.m. daily (the last departure is at 11:39 p.m. from Kowloon Bay MTR Station and the last departure is at 11:59 p.m. from MegaBox). The frequency is around 10 to 15 minutes.

- Shuttle Bus Services (e.g. service hours, trips, routes, etc.) are subject to change without prior notice.


How to get to the shuttle bus stop from MTR Station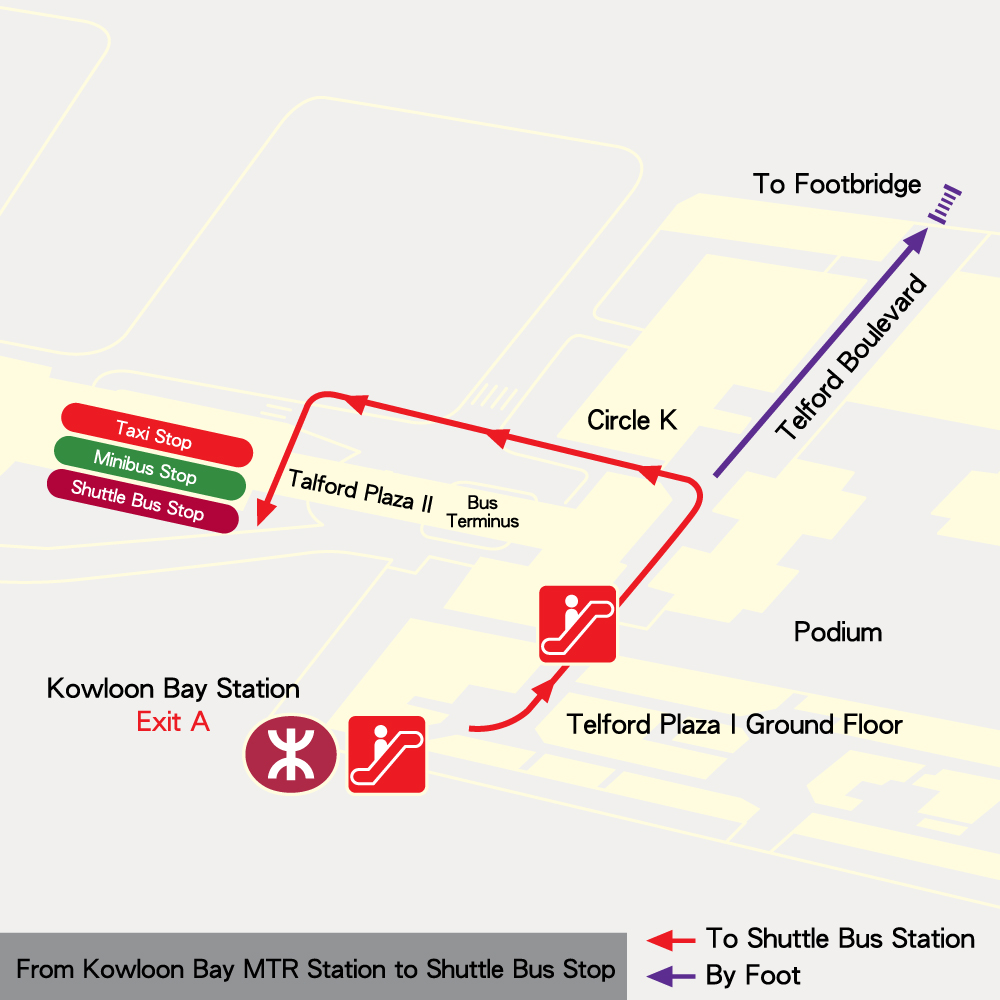 (2) Shuttle Bus Service between MegaBox and Tak Long Estate (available on Saturdays, Sundays & Public Holidays)

Free Shuttle Bus Services are available between MegaBox and Tak Long Estate (Muk Chui Street near the roundabout) on Saturdays, Sundays and Public Holidays. Service hours are from 11:00 a.m. to 10:00 p.m. (the last departure is at 09:40 p.m. from Tak Long Estate and the last departure is at 10:00 p.m. from MegaBox). The frequency is around 12 minutes.
- Shuttle Bus Services (e.g. service hours, trips, routes, etc.) are subject to change without prior notice.

How to get to the shuttle bus stop from Muk Chui Street



Please click here to enlarge the map.
Note: Please Do Not Carry Parcel Exceeding 41cm x 35cm x 25cm Boarding Shuttle Bus
Stay in Touch with MegaBox
Subscribe to our newsletter
Find us on social media