MegaBox x Deliveroo Exclusive F&B Reward
2020-03-24
From 27 Mar, enjoy takeaway order at designated MegaBox restaurants through Deliveroo with MegaBox exclusive Promo code! (Promo code quota applies while stock lasts)
Promotion Date: 27 March 2020 until stock lasts
Free delivery fee of takeaway service at designated MegaBox restaurants
Apply the promo code 'MEGABOXHK20' before checkout at Deliveroo to enjoy free delivery fee of the order. Member can enjoy discount offer at designated MegaBox restaurants together!
- Promo code quota applies while stock lasts
- 'MegaBox free delivery fee promo code' must be applied before checkout on Deliveroo's platform and cannot be used in conjunction with any other Promo Code (including 'Deliveroo new member promo code'), 'Deliveroo new member promo code' cannot be used if new members apply the 'MegaBox free delivery fee promo code' during the first order
Exclusive New Member HK$100 Reward
Upon spending HK$100 of each order, new member can place an order and apply the promo code 'MEGABOXNEW100' before checkout at Deliveroo to enjoy HK$20 discount on each of first five orders. (Limited to first 5 orders)
-Promo code quota applies while stock lasts
- Each order must have a minimum total spending of HK$100 (excluding delivery fee).
- 'Deliveroo new member promo code' must be applied before checkout on Deliveroo's platform and cannot be used in conjunction with any other Promo Code (including 'MegaBox free delivery fee promo code'), 'Deliveroo new member promo code' cannot be used if new members apply the 'MegaBox free delivery fee promo code' during the first order-
This promo code is only applicable to members who have never placed an order at Deliveroo before the promotion period
Please click <here> for more designated restaurants and offers.
Terms and Conditions
-Promotion date until 30 Sep 2020 or until stock last
-Photos are for reference only.
-The promo codes are subject to the terms and conditions of the Deliveroo. Members must apply the designated promo code before checkout on Deliveroo's official website (www.deliveroo.hk) or Deliveroo's mobile application to enjoy designated discount offer for each of the orders.
-Promo codes are only applicable for designated MegaBox restaurants
-Designated promo codes cannot be used in conjunction with any other promo code (except designated MegaBox restaurants' promotion offers)
-Promo codes are not refundable or exchangeable for cash.
-'Deliveroo new member promo code' cannot be used if new members applied the 'MegaBox free delivery fee promo code' during the first order.
-'MegaBox free delivery fee promo code' and 'Deliveroo new member promo code' can only be used for once and it cannot be used together at the same order. Please see www.deliveroo.hk/legal for more detail of Terms and conditions.
-By using the designated promo codes, members accept and agree the terms and condition of this promotion programme.
-Delivery point of Deliveroo is only applicable for Kowloon Bay district and Ngau Tau Kok district. Please refer to the latest information and status on Deliveroo platform.
-All related responsibilities and liabilities of provision of products and offers that are relevant to this promotion are to be entirely borne by the respective provider.
-Staff of MegaBox and all merchants are not eligible to participate.
-In case of any disputes, MegaBox reserves the right of final decision.
-The above promotion details, Terms and Conditions are subject to change without prior notice.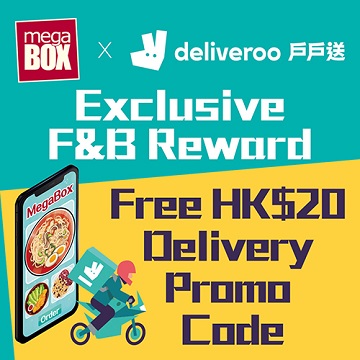 Stay in Touch with MegaBox
Subscribe to our newsletter
Find us on social media