2020-01-26
(1) Chinese Restaurant Dining Redemption
From 12:00nn to 3:00pm, upon spending HK$300* or above in any Chinese Restaurant^ to redeem 1 pack of Four Seas Chestnut(100g)


(2) Lunch Dining Redemption
From 12:00nn to 3:00pm, upon spending HK$100* or above in any restaurant of MegaBox to redeem 1 pack of Vita Chrysanthemum Tea (250ml)
From 12:00nn to 3:00pm, upon spending HK$200* or above in any restaurant of MegaBox to redeem 1 box of Four Seas Box Type Biscuit (40g)

^Chinese Restaurant including L6 SHANGHAI MIN, L7 Fung Shing 1954 , L13 The Banqueting House, Palace One, Fisher and Farmer and L14 Paramount Banquet Hall
* Single same-day merchant's machine-printed receipt together with UnionPay / EPS / credit card sale slip must be presented (payment by cash or Octopus card is not accepted)

Redemption Date: 1 Sep - 30 Nov 2020 (Mon – Fri only, except public holiday)
Redemption Time: 12:00nn – 3:00pm
Redemption Location: Redemption / Mega Club Counter @ G
(Daily quota applies, while stock lasts)

^Chinese Restaurant including L6 SHANGHAI MIN, L7 Fung Shing 1954 , L13 Club ONE The Bay, Palace One, Fisher and Farmer and L14 Paramount Banquet Hall
* Single same-day merchant's machine-printed receipt together with UnionPay / EPS / credit card sale slip must be presented (payment by cash or Octopus card is not accepted)


- Spending time of 12:00nn – 3:00pm must be clearly shown for all merchant's receipts.
- Each customer can only redeem one of each Premium once per day, and must be the same person as cardholder.
- Only consider net purchase amount (i.e. after calculating discounts or use of coupons)
- Staff of MegaBox will stamp on all redeemed sales receipts for identification purpose.
- Customers must provide details of their merchant's machine-printed receipts for identification purposes whereas MegaBox Development Co. Ltd. reserves the right to take photos of the receipts for verification.
- Each set of receipts can only be used for participating in one promotion (including Points Earning, Premiums Redemption, other in-mall promotional activities, etc.).
- Do not accept receipts of deposit or partial payment, banking service, recharge service, mobile SIM card recharge, bill, tuition (except Mega Ice), membership, purchase of prepaid-card (e.g. gift card, gift voucher, cash voucher, discount card, etc.) concert ticket, movie ticket stub, online payment receipt, sales venue or booths receipts, hand written or reprinted receipts.
- All purchases and time must be clearly presented on merchant's machine-printed receipt.
- Any amended, damaged, photocopied or transaction-not-completed receipts will not be accepted.
- Photos and prices are for reference only.
- Offers or premiums are not refundable or exchangeable for cash.
- Daily quota applies while stock lasts. (The above redemption is only valid while stock lasts).
- Redeemed premiums cannot be returned or cancelled under any circumstances.
- In case of stock shortage, MegaBox reserves the right to change the redemption item without prior notice.
- All related responsibilities and liabilities of provision of premiums and offers that are relevant to this promotion are to be entirely borne by the respective provider.
- Staff of MegaBox Development Co. Ltd. and respective merchants cannot participate in this promotion.
- In case of any disputes, MegaBox Development Co. Ltd. reserves the right of final decision.
- Terms and conditions apply. The above offers are subject to change without prior notice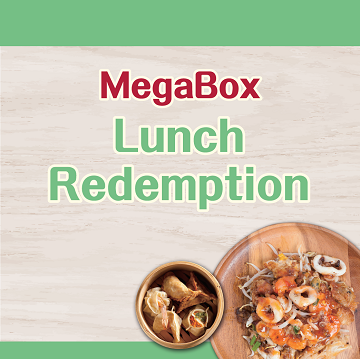 Stay in Touch with MegaBox
Subscribe to our newsletter
Find us on social media