2020-10-09
To celebrate MegaBox's 13th birthday, the very first "MegaBox Thankful Month" will be held from 9 Oct to 30 Nov. Gathered from over 40 different merchants, an exclusive selection of furniture and home electronics, kids-wear and toys, fashion items, sportswear and delicacies are selling at up to 90% off. Total products on sale valued at over HK$10 Million! Get ready for the most exciting shopping extravaganza ever!

All discount items will be sold in 4 different period:

Period 1: Lifestyle and Furniture
9 Oct to 26 Oct, 2020

Period 2: Kids
27 Oct to 8 Nov, 2020

Period 3: Fashion and Sports
9 Nov to 15 Nov, 2020

Period 4: F&B and Entertainment
16 Nov to 30 Nov, 2020
Please refer to in-mall promotional materials or
Click Here
for list of discounted items on sale.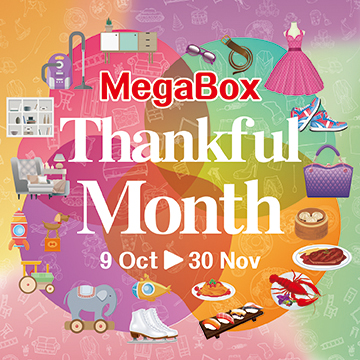 Stay in Touch with MegaBox
Subscribe to our newsletter
Find us on social media