2019-01-31
(1) Chinese Restaurant Dining Redemption
From 12:00nn to 3:00pm, upon spending HK$300* or above in any Chinese Restaurant^ to redeem 1 Calbee Original Flavoured Prawn Cracker (4 small packs)
(2) Lunch Dining Redemption
From 12:00nn to 3:00pm, upon spending HK$100* or above in any restaurant of MegaBox to redeem 1 cup of Malted Soya Bean Milk (250ml)
From 12:00nn to 3:00pm, upon spending HK$200* or above in any restaurant of MegaBox to redeem 1 cup of Yan Yan (Chocolate)
^Chinese Restaurant including L6 SHANGHAI MIN, L7 Fung Shing 1954 , L13 The Banqueting House, Palace One, Fisher and Farmer and L14 Paramount Banquet Hall
* Single same-day merchant's machine-printed receipt together with UnionPay / EPS / credit card sale slip must be presented (payment by cash or Octopus card is not accepted)
Redemption Date: 1 Dec 2019 – 29 Feb 2020(Mon – Fri only, except public holiday)
Redemption Time: 12:00nn – 3:00pm
Redemption Location: Redemption / Mega Club Counter @ G (opposite to Teawood)
(Daily quota applies, while stock lasts)
^Chinese Restaurant including L6 SHANGHAI MIN, L7 Fung Shing 1954 , L13 Club ONE The Bay, Palace One, Fisher and Farmer and L14 Paramount Banquet Hall
* Single same-day merchant's machine-printed receipt together with UnionPay / EPS / credit card sale slip must be presented (payment by cash or Octopus card is not accepted)
- Spending time of 12:00nn – 3:00pm must be clearly shown for all merchant's receipts.
- Each person can only redeem each of the above gift items once per day.
- Only consider net purchase amount (i.e. after calculating discounts or use of coupons)
- Staff of MegaBox will stamp on all redeemed sales receipts for identification purpose.
- Customers must provide details of their merchant's machine-printed receipts for identification purposes whereas MegaBox Development Co. Ltd. reserves the right to take photos of the receipts for verification.
- Do not accept receipts of banking service, recharge service, mobile SIM card recharge, bill, tuition (except Mega Ice), membership, prepaid consumption (including purchase of gift card, gift voucher, cash voucher, discount card and other types of prepaid consumption) , concert ticket, sales venue or booths receipts, hand written or reprinted receipts.
- Each set of receipts can only be used for one promotional offer (including Mega Club credit point's redemption).
- All purchases and time must be clearly presented on merchant's machine-printed receipt.
- Any amended, damaged, photocopied or transaction-not-completed receipts will not be accepted.
- Photos and prices are for reference only.
- Offers or premiums are not refundable or exchangeable for cash.
- Daily quota applies while stock lasts. (The above redemption is only valid while stock lasts).
- Redeemed premiums cannot be returned or cancelled under any circumstances.
- In case of stock shortage, MegaBox reserves the right to change the redemption item without prior notice.
- All related responsibilities and liabilities of provision of premiums and offers that are relevant to this promotion are to be entirely borne by the respective provider.
- Staff of MegaBox Development Co. Ltd. and respective merchants cannot participate in this promotion.
- In case of any disputes, MegaBox Development Co. Ltd. reserves the right of final decision.
- Terms and conditions apply. The above offers are subject to change without prior notice.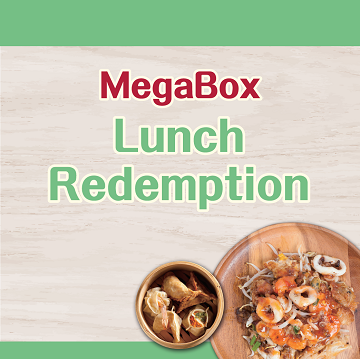 Stay in Touch with MegaBox
Subscribe to our newsletter
Find us on social media